Thanks Dealspotr for sponsoring this post
Bath & Body Works is one of my favorite places to shop. When I enter the store, those wonderful scents take me on a vicarious trip to Hawaii, an idyllic forest, or a crisp fall evening. I also order frequently from their website, where I admittedly have to imagine the aromas rather than experiencing them first-hand. Still, the packaging is gorgeous and the lotions, home fragrances, body washes, and soaps are small pleasures that make life more enjoyable.
Even though I love to shop Bath & Body Works, I don't want to spend more money there than I need to.
When I see that "promotion code" box at checkout, it taunts me. Because it says to me that apparently there *are* promo codes out there. How can I find one to decrease my total cost?
Mailing List
One way I've gotten promo codes from Bath & Body Works is from brochures mailed to me. I'm not exactly sure how I got onto their mailing list. You can sign up for their email list (which will alert you to sales) at the bottom of their website (scroll to the bottom; you'll find the signup on the left). I don't think a signup here will get you on their mail list for coupons and promo codes, though. I think I get them because each year in December I make several purchases there (both in-store and online) for my Dad, who gives the loot to my sisters and me for Christmas. In this way, Bath and Body Works gets my name and address. For the next year, voila! They treat me to a mailing each month, each with a coupon for one free travel-size item, and coupons/promo codes as well (often for 20% off an entire purchase, for instance). So, it may be worth making some purchases either at a store or at the website to get yourself set up to receive such mailings.
Internet Promo Code Search
If I want to make a purchase today, and I have no promo codes in my coupon stack, my first step would be a Google search.
Here is what came up for me most recently when I searched for a Bath & Body Works promo code. If you've tried this method of searching for working promo codes, you know that it can be hit-or-miss. Often, codes are expired or don't work for some reason when I tried them. Other times, discounts listed aren't ones that apply to what I want to order, or aren't really helpful at all ("save up to 40% on select merchandise," etc).
With this search, I did find site-wide 20% off promo codes that worked.
Dealspotr
For more working promo codes you can use at Bath & Body Works, Dealspotr is a site I've come to trust. Let's see what I can find there.
When I search for Bath & Body Works at Dealspotr, look on the left-hand side. I can filter the coupons to see just promo codes, just site-wide codes, just free shipping offers, etc. I really like this feature. It helps me easily find just what I'm looking for, while filtering out everything that I'm not.
How nice! I find several different side-wide codes listed. I like the way that Dealspotr also offers a step-by-step on how to use the codes, found on the left-hand side. I choose a code and click on it.
Here, I get more helpful information. Dealspotr shows me how to use the code, and then asks me if it worked. On the right side of the page, I can also see that some other Dealspotr members have validated the deal — basically, given it a thumbs up by explaining how it worked for them. It's like having some fellow bargain-loving friends right there on the page with me!
Did the code work? As you can see above — yes, it did! Shopping is fun. Saving money while shopping makes it even more enjoyable!
Free Shipping
I enjoy shopping online, but one of the biggest downsides for me is shipping. I'm not sure why, but it annoys me to have to pay shipping. So, free shipping deals are ones I appreciate. I decided to check Dealspotr's option to choose "free shipping" offers for Bath & Body Works. Here's what I found:
Yay! There are several free shipping codes listed. I appreciate the way Dealspotr clearly lists the conditions needed to use each code. And can you see that each of these promo codes has been validated, with a probably expiration date listed? Helpful!
Dealspotr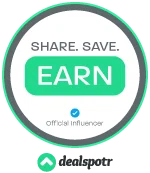 Above you"ll see the round badge you can click to join Dealspotr. You'll earn 2,000 points if you sign up for a free membership through that link, and you can earn more points if you post deals yourself, or if you report on whether or not certain promo codes and deals work for you. With those points, you can earn gift cards.
Are you a member of Dealspotr? If so, I'd love to hear your experiences in the comments. Do you have go-to ways you look for promo codes to use online? Again, please share if you do. We're all in this together, and we all enjoy saving.